Журнал включён в Перечень ведущих рецензируемых научных журналов и изданий, в которых должны быть опубликованы результаты диссертаций на соискание учёной степени кандидата и доктора наук (решение Президиума ВАК Минобрнауки РФ №6/6, февраль 2010).
Журнал включён в Реферативный журнал и Базы данных ВИНИТИ РАН и зарегистрирован в Научной электронной библиотеке в базе данных Российского индекса научного цитирования на основании сублицензионного договора № 07-04/09-14 от 25 марта 2009 года.
Журнал индексируется: БД SCOPUS, Ulrich's International Periodicals Directory.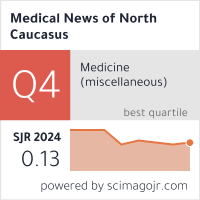 Оценка состояния микробной флоры ротоглотки и уровня эндотоксемии у больных BИЧ-инфекцией
[Инфекционные болезни]
Суладзе Александр Георгиевич; Твердохлебова Татьяна Ивановна; Матузкова Анна Николаевна; Пшеничная Наталья Юрьевна; Донцов Денис Владимирович; Алешукина Анна Валентиновна; Рындич Антонина Алексеевна;
Проведена оценка состава микрофлоры слизистой ротоглотки и биохимических маркеров эндотоксемии с определением содержания LPS-Р в крови у 100 BИЧ-позитивных пациентов, получавших антиретровирусную терапию. Выявлена интенсивная колонизация слизистой ротоглотки условно-патогенной микробной флорой в высоких количественных титрах и более чем 14-кратное превышение уровня LPS-Р. Добавление к терапии на 4 недели аминодигидрофталазиндион натрия («Галавит») обеспечило достоверное снижение концентрации LPS-Р в крови и нормализацию микробного состава слизистой ротоглотки у большинства пациентов с ВИЧ.
Список литературы:
1. Yang X., Li X., Qiao S., Shen Z., Zhou Y. Socioeconomic disparity of immunologic outcome among people living with HIV in Guangxi, China. AIDS Care. 2020;8:1-5. https://doi.org/10.1080/09540121.2020.1738004
2. Moreno-Coutino G., Sanchez-Cardenas C. D., Bello-Hernandez Y., Fernandez-Martinez R., Arroyo-Escalante S., Arenas R. Isolation of Malassezia spp. in HIV-positive patients with and without seborrheic dermatitis. An. Bras. Dermatol. 2019;94(5):527-531. https://doi.org/10.1016/j.abd.2019.09.012
3. Ingram Z., Taylor M., Okland G., Martin R., Hulme A. E. Characterization of HIV-1 uncoating in human microglial cell lines. Virol. J. 2020;17(1):31. https://doi.org/10.1186/s12985-020-01301-5
4. Olalla J., Garcia de Lomas J. M., Chueca N., Perez-Stachowski X., De Salazar A. [et al.]. Effect of daily consumption of extra virgin olive oil on the lipid profile and microbiota of HIV-infected patients over 50 years of age. Medicine (Baltimore). 2019;98(42):e17528. https://doi.org/10.1097/MD.0000000000017528
5. Taramasso L., Ricci E., Cascio A., Valsecchi L., Menzaghi B. [et al.]. Positioning of darunavir/cobicistat-containing antiretroviral regimens in real life: results from a large multicentre observational prospective cohort (SCOLTA). AIDS Res. Ther. 2019;16(1):21. https://doi.org/10.1186/s12981-019-0236-0
6. Tweed C. D., Crook A. M., Dawson R ., Diacon A. H., McHugh T. D. [et al.]. Toxicity related to standard TB therapy for pulmonary tuberculosis and treatment outcomes in the REMoxTB study according to HIV status. BMC Pulm. Med. 2019;19(1):152. https://doi.org/10.1186/s12890-019-0907-6
7. Kistler J. O., Arirachakaran P., Poovorawan Y., Gunnar Dahlen, Wade W. G. The oral microbiome in human immunodeficiency virus (HIV)-positive individuals. J. Med. Microbiol. 2015;64(9):1094-1101. https://doi.org/10.1099/jmm.0.000128
8. Gonzalez-Quintela A., Alonso M., Campos J., Vizcaino L., Loidi L., Gude F. Determinants of serum concentrations of Lipopolysaccharide-Binding Protein (LBP) in the adult population: the role obesity. PLoS One. 2013;8(1):e54600. https://doi.org/10.1371/journal.pone.0054600
9. Mierzchala M., Krzystek-Korpacka M., Gamian A., Durek G. Quantitative indices of dynamics in concentrations of lipopolysaccharide-binding protein (LBP) as prognostic factors in severe sepsis/septic shock patients--comparison with CRP and procalcitonin. Clin. Biochem. 2011;44(5-6):357-363. https://doi.org/10.1016/j.clinbiochem.2011.01.012
10. Saran S., Gurjar M., Garg A., Sahu C., Bhaskar B. [et al.]. Uncommon non-fermenting Gram-negative bacillary bacteraemia in ICU patients. Infect. Dis. (Lond). 2020;52(5):372-375. https://doi.org/10.1080/23744235.2020.1716991
11. Sidler J. A., Battegay M., Tschudin-Sutter S., Widmer A. F., Weisser M. Enterococci, Clostridium difficile and ESBLproducing bacteria: epidemiology, clinical impact and prevention in ICU patients. Swiss Med. Wkly. 2014;144:w14009. https://doi.org/10.4414/smw.2014.14009
12. Avire N, J., Whiley H., Ross K. A Review of Streptococcus pyogenes: Public Health Risk Factors, Prevention and Control. Pathogens. 2021;10(2):248. https://doi.org/10.3390/pathogens10020248
13. Svistunov A. A., Makhnach G. K., Bunina D. V., Khorobrykh T. V., Volgin M. V. [et al.]. Administration of the immunomodulatory drug aminodihydrophthalazinedione sodium for prevention of progression pneumonia induced COVID-19. Ter. Arkh. 2020;92(11):65-70.

Ключевые слова: ВИЧ-инфекция, микрофлора, эндотоксемия, иммунокоррекция